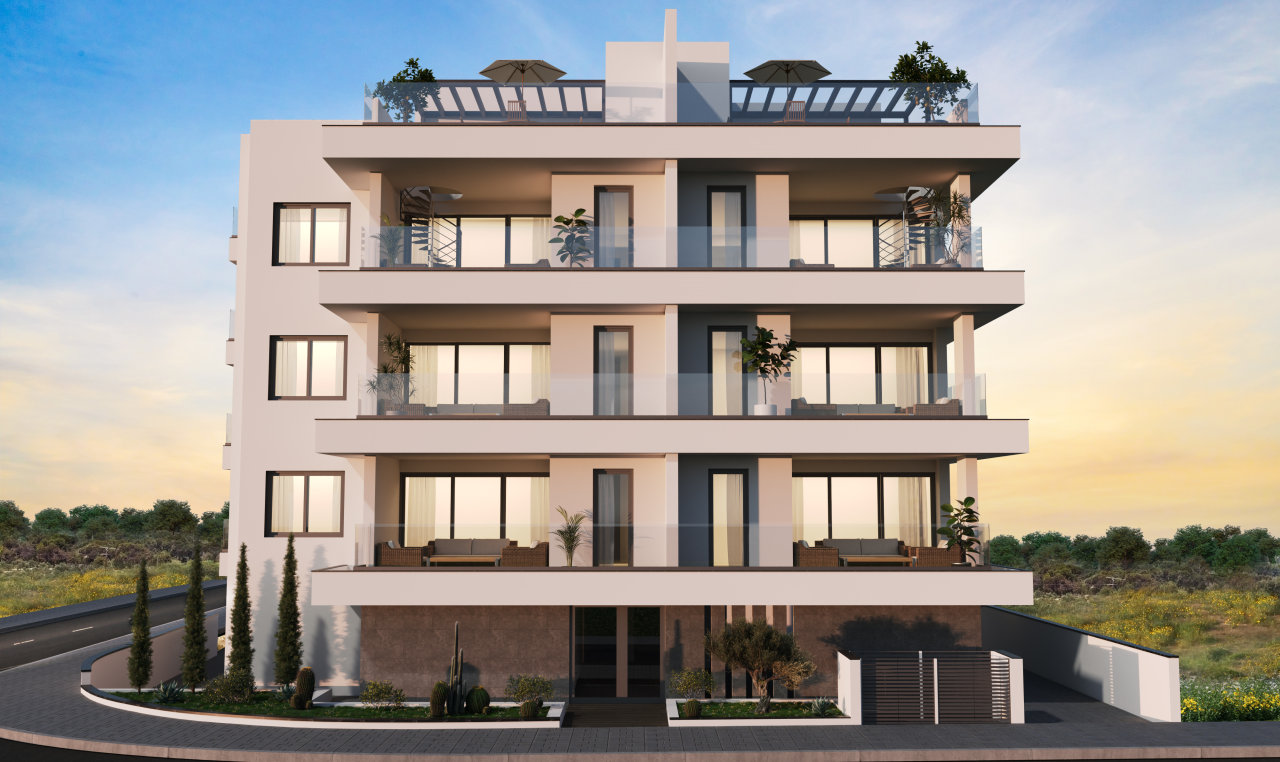 Harmonia Residence is a premium contemporary residential project, comprising of only 8 spacious and modern apartments and penthouses that are arranged over three floors.
Located in Vergina, a quiet residential area of Larnaka near to all essential amenities, like supermarkets, schools, shops and the new Metropolis Mall.
The internal spaces of the apartments are meticulously planned to provide large and flexible open plan spaces that extend onto equally large covered verandas
The project consists of 8 units in total:  1 x One-Bedroom Apartment on the 1stfloor, 4 x Two-Bedroom Apartments on the 1stand 2ndFloor, 2 x Two-Bedroom Penthouses on the 3rd floor with private roof garden and 1 x Three Bedroom Duplex Penthouse with private roof garden on the 3rd floor.
Externally the building provides clear lines that are harmoniously combined with the interior. The intention through the overall material and texture palette is to render the simplicity and harmony of the project.
Harmonia Residence is designed to offer its residents the most precious commodities a home can possess – comfort and warmth.
| Unit | Bedroom | Bathroom | Size | Availability | |
| --- | --- | --- | --- | --- | --- |
| 101 | 2 BED | 2 BATH | 121 M2 | NOT AVAILABLE | |
| 102 | 2 BED | 2 BATH | 118 M2 | NOT AVAILABLE | |
| 103 | 1 BED | 1 BATH | 98 M2 | NOT AVAILABLE | |
| 201 | 2 BED | 2 BATH | 121 M2 | NOT AVAILABLE | |
| 202 | 2 BED | 2 BATH | 114 M2 | NOT AVAILABLE | |
| 301 | 2 BED | 3 BATH | 168 M2 | NOT AVAILABLE | |
| 302 | 2 BED | 3 BATH | 162 M2 | NOT AVAILABLE | |
| 303 | 3 BED | 4 BATH | 264 M2 | AVAILABLE | |
| Unit | Bedroom | Bathroom | Size | Availability | |
| --- | --- | --- | --- | --- | --- |
| 103 | 1 BED | 1 BATH | 98 M2 | NOT AVAILABLE | |
| Unit | Bedroom | Bathroom | Size | Availability | |
| --- | --- | --- | --- | --- | --- |
| 101 | 2 BED | 2 BATH | 121 M2 | NOT AVAILABLE | |
| 102 | 2 BED | 2 BATH | 118 M2 | NOT AVAILABLE | |
| 201 | 2 BED | 2 BATH | 121 M2 | NOT AVAILABLE | |
| 202 | 2 BED | 2 BATH | 114 M2 | NOT AVAILABLE | |
| Unit | Bedroom | Bathroom | Size | Availability | |
| --- | --- | --- | --- | --- | --- |
| 301 | 2 BED | 3 BATH | 168 M2 | NOT AVAILABLE | |
| 302 | 2 BED | 3 BATH | 162 M2 | NOT AVAILABLE | |
| Unit | Bedroom | Bathroom | Size | Availability | |
| --- | --- | --- | --- | --- | --- |
| 303 | 3 BED | 4 BATH | 264 M2 | AVAILABLE | |